THIS EXCERPT IS STRICTLY FOR THE SEASONED, MATURE, ADULT READER NOT FOR UNDERAGE READERS*
Angie Situation (NAIVETE')
SNEAK PEEK of the PREQUEL TO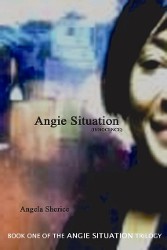 <--THIS SEQUEL "Angie Situation" (INNOCENCE)
"The fact that I hated that school had nothing to do with the joy I felt from graduating at my age-appropriate year. By graduation time, although I never made it a priority to make many friends there, and likewise, they-me; my graduating class was still all friendly and respectful to me by this day, and likewise, me-them (including Heckla). We all probably looked like Morris Day did out in the crowd at the end of "Purple Rain," celebrating and dancing to Prince performing after all that time during the whole movie he spent heckling his rival.
I think we all just wanted out, and felt like something had been accomplished-regardless-for our own sets of reasons and from our own sets of experiences and expectations. The goal was the same and at this moment in all of our time; we all were the same: in my eyes and me in theirs. It was beautiful. I began to love the school towards the end of the year.
Though I knew, like they knew that we pretty much had nothing else outside of this sunny June day in common; what we did share was the spirit of joy and accomplishment. The days leading up to graduation day was as friendly and as close as if after commencement, I too, would be joining them all in their monotonous: go home, go to work, chill out with a couple friends, get drunk, smoke a lil' weed and maybe get into some mischief.
I took my time getting dressed and ready for this moment that I knew I would be sharing and celebrating alone.
Still, I felt beautiful that day. I felt so smart, so accomplished, so worthy of this moment. I worked so hard for it.
My one good friend that I made at the school: Posh from bookkeeping class, walked down the isle right in front of me as determined by our last names. The only people who made it to my graduation in support of me were my friend Dana and my aunt Judy. I was very surprised because I went alone, not thinking that I would have anyone there for me.
My mom was home sick from surgery, Twin was who knows where, and I was still estranged from my dad. Posh and I were chums at school as well as after school. Her stepfather scooped me up in the old beat up Chevy Conversion van where he, her sister Dawn, and her mom were her guests and support system for this big day. And well, mine too.
After commencement, I entered the lobby of the hall, and there stood my aunt Judy with a card and a surprise hug for me, wrapped around some words of encouragement to let me know just how proud of me, she was.
We walked through the corridors to outdoors and there, stood my girl Dana, with flowers, a card and a tight hug for me as well.
I was even more surprised, because although she and I had still remained friends after I left the artsy-school, I didn't recall ever telling her my "get a life" workout plan or even what my graduation date ws. We talked about a lot of things-guys and such-but never did I explain to her, the things I was feeling, going through or working on. Just our boyfriend-talk, but she surprised me.
I figured that since she knew I was supposed to be walking down the isle with she, and my other artsy-school buddies sometime earlier that same month; I guess she took it upon herself to find out where my deviated graduation plans were actually taking place. She found me.
That was special to me-her thoughtfulness.
Outside of the fact that we shared a history as friends since we were ten years-old and even shared the same bathtub many a day as pre-teens; the fact that she went out of her way to share this day with me meant even more than that.
Hmm.
Her mom meant business about her water bill.
It was common for every weekend during the school year and on random days throughout the summer; Dana's house would be littered with screaming girls throughout all three floors of the house, including the basement, den or the attic. It was like when her parents bought that house, they just opened the doors for an all-girls sit-in, and they would retreat to their bedroom and close theirs.
It seemed like the only time her mom came out of the room was to cook big breakfasts that would last us through lunch, then to cook dinner. She mainly made her presence known when it was time to supervise that bathroom. She didn't play that shit about her water-bill. If thirteen of us were over there, only one of us got lucky, because she meant business about those two-to-a-tub baths. I guess she figured since none of us were sexually active and still walking around singing jump rope songs, rhymes and limericks; we did not have too much to hide in our lil' pocketbooks.
Dana and I would usually pair up and then retreat to the den; lying upside down across the plaid couch with our feet up on the wall, blasting music and singing Chaka Khan "Aint Nobody" to the top of our lungs like we had somebody.
We were so wild and free at Dana's house.
At house, her mom and her dad were just the ticket to the kind of pre-teen freedoms that you could not get at home. Any concert, skating party, mutual friend sleep-over, Saturday night movie or recreation of any kind; Dana's house was the place to be, and her mom or dad would drive all us daisies to and from."
BACK TO EXCERPTS